2023 Toyota GR Corolla Review
The 2023 GR Corolla has arrived, crafted by the accomplished team responsible for TOYOTA GAZOO Racing's global success. Road-tested by expert driver Akio Toyoda, this model delivers an exhilarating driving experience to Canadian enthusiasts with its captivating formula.
The design of the GR Corolla showcases its valuable input from professional rally drivers, providing easy access to the car's performance for the driver. The cockpit features a brightly lit display and stylish interior trim details around the console and door handles, combining aesthetics with functionality. The 12.3" Multi-Information Display influenced by rally drivers allows you to keep track of vital information like gear shift position, tachometer, turbo pressure, and the GR meter with AWD mode without diverting your eyes from the road. The GR Corolla welcomes you with standard heated sports seats with 6-way adjustability, and the front passenger seat is 4-way adjustable, featuring GR Sports Fabric in the Core Edition and an upgrade to GR Sport Suede in the Circuit Edition.
The GR Corolla features distinctive design elements that add individuality to preferred features. The black GR badged matrix grill at the front draws attention, leading your gaze over the uniquely shaped hood and tapered roof. The rear wings' wide track and flaring accentuate the car's low, poised profile. The GR Corolla Circuit Edition prioritizes improved aerodynamics with carefully placed vents and a featherweight carbon fibre roof. Core and Circuit Editions have 18" glossy black 15-spoke alloy wheels and Michelin Pilot Sport 4 tires for exceptional cornering and high-speed stability.
The GR Corolla boasts a compact yet powerful G16E-GTS turbocharged engine, combining direct and port injection to produce 300 horsepower and 273 pound-feet of torque for swift acceleration out of corners. Its 6-speed manual transmission with a short-throw lever pays homage to rally racing heritage, enabling quick gear changes. The GR-FOUR Wheel Drive system, designed for rally racing, provides exceptional traction and control, with the ability to adjust drive power to each wheel via a simple dial turn. The front suspension features a MacPherson-type strut design for efficient power transfer and optimal cornering.
Cloud Navigation
Enjoy real-time traffic updates, dynamic route suggestions, and Google Points of Interest data integration.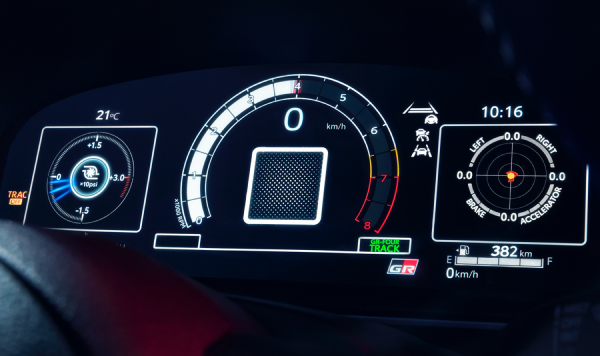 Intelligent Assistant
With its robust language processing capabilities, the virtual assistant can understand your commands in a natural, conversational tone when you speak to it. All you need to do is say, "Hey, Toyota," to activate it.
Available JBL Premium Audio
Immerse yourself in the Circuit Edition's 8-speaker JBL Premium Audio system, which boasts an eight-channel, 800-watt amplifier that creates an impressive wall of sound.
Backup Camera
To ensure visibility while reversing, every GR Corolla is outfitted with a standard backup camera, which offers a clear view of the area behind you.
Our latest suite of active safety features, Toyota Safety Sense 3.0, goes beyond expectations to deliver exceptional performance. With advanced features like the Pre-Collision System, you can take your peace of mind to a whole new level, especially when navigating intersections, and feel supported in your awareness.
The GR Corolla is equipped with a Blind Spot Monitor with Rear Cross Traffic Alert as standard to enhance safety and provide reassurance. The Blind Spot Monitor detects vehicles in neighbouring lanes that may be obscured from view in your side-view mirrors, while Rear Cross Traffic Alert alerts you to the presence of cars behind you while reversing.
Engine: 1.6l Turbo 3-cylinder G16e-gts
Horsepower: 300
Torque: 273 Lb.-ft.
Drivetrain: Gr-four Awd
Transmission: Available In 6-speed Intelligent Manual